The 9D Arcturian Council ~ Awakening in Someone Else's Dream

The 9D Arcturian Council ~ Awakening in Someone Else's Dream
By Danial Scranton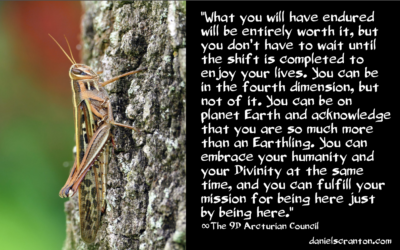 "Greetings. We are the Arcturian Council. We are pleased to connect with all of you.
We have observed that many of you who are on a spiritual path, many of you who are awakened, are also having a very hard time being on planet Earth. It is as though you are not in the right time or in the right space. When you take into consideration how far you have to come in order to be awakened, it can seem to all of you like you have woken up in someone else's dream.
This very common experience unites you and breeds the compassion that you have within you. Now, you are correct that the lifetimes that you've lived on other worlds have been easier and better. You have known some very wonderful lifetimes and experiences in this galaxy, and it is also true that there's a part of each of you that don't really want to fit in here. There's that part of you that knows you are more than just human, more than just ego.
And then there's that part of you that just wants to get on with this shift and get it over with. You can do so much more from where you are now than from any other position that you could possibly be in while residing in a fourth-dimensional frequency range. What you have ahead of you is going to knock your socks off. It's going to blow your minds.
What you will have endured will be entirely worth it, but you don't have to wait until the shift is completed to enjoy your lives. You can be in the fourth dimension, but not of it. You can be on planet Earth and acknowledge that you are so much more than an Earthling. You can embrace your humanity and your Divinity at the same time, and you can fulfill your mission for being here just by being here.
You don't have to fall into the model that society has given you for success in order to be a success. Just be who you are, and accept all aspects of who you are, including your current location in time and in space.
We are the Arcturian Council, and we have enjoyed connecting with you."
~~~~~~~~~
Share Our Messages with Love and Gratitude
LOVE US @ MeWe mewe.com/join/lovehaswon
Commentary from The First Contact Ground Crew 5dSpiritual Healing Team:
Feel Blocked, Drained, Fatigued, Restless, Nausea, Achy, Ready to Give Up? We Can Help! We are preparing everyone for a Full Planetary Ascension, and provide you with the tools and techniques to assist you Home Into The Light. The First Contact Ground Crew Team, Will Help to Get You Ready For Ascension which is Underway. New Spiritual Sessions have now been created for an Entire Family, including the Crystal Children; Group Family Healing & Therapy. We have just began these and they are incredible. Highly recommend for any families struggling together in these times of intense changes. Email: motherofallcreation@lovehaswon.org for more information or to schedule an emergency spiritual session. We can Assist You into Awakening into 5d Reality, where your experience is one of Constant Joy, Wholeness of Being, Whole Health, Balanced, Happy and Abundant. Lets DO THIS! Schedule Your Session Below by following the Link! We are Here in The Highest Love, Honor, and Respect to Be Humanity's Representatives of The New Paradigm of True Freedom, Abundance, True Equality, A Completely Balanced Being and a Completely Benevolent Society! This is our Destiny as The Old illusion of power over and dysfunction dissolve. Allow us to be of service to You. Visit:  https://www.lovehaswon.org/awaken-to-5d/
To read our Testimonials you can follow this link: https://www.lovehaswon.org/testimonials
Connect with MotherGod~Mother of All Creation on Skype @ mothergoddess8
We are a Donation based service for the Planetary Ascension. Thank you for showing your support and keeping our website and Love Energies moving forward! Thanks for supporting your family of light in their time of need to fulfill mission. We are Eternally Grateful!
Donate to Love: https://www.lovehaswon.org/donate-to-love/
Support Us on PATREON: https://www.patreon.com/lovehaswon
Here is our Fund Raising information for The Crystal Schools: https://www.gofundme.com/lovehaswon
For a Free copy of Our Book (The Tree of Life ~ Light of The Immortals) visit: https://www.lovehaswon.org/tree-of-life-book/
MeWe ~ Youtube ~ Apple News ~ Linkedin ~ Twitter ~ Tumblr ~ GAB ~ Minds ~ Medium ~ StumbleUpon ~ Reddit ~ Informed Planet ~ Steemit ~ SocialClub ~ BlogLovin ~ Torial ~ Flipboard ~ Pinterest ~ Instagram ~ Snapchat