The Energies of 08~18~18: Building Something of Lasting Benefit
The Energies of 08~18~18: Building Something of Lasting Benefit
By heartlightdg
8-18-18 OR 18-8-18
Feeling drawn to post after listening to one of the spiritual youtubers I follow, Amanda Ellis, about the date and these numbers. Today is my grandson's 20th birthay, meaning he was born on 8-18-98. I'm particularly keen on that number. According to one numerology site, "18 is involved with business on an international scale," and I can totally see that in him. He is smart, intuitive, and in his third year of IT at university, having already been working in the field for a couple of years. He has plans to study or at least live in Japan and has recently visited China for a few weeks.
The number 8 has long been a favorite of mine. Sideways, 8 is the infinity symbol. Eighteen with the digits added together equals 9, which is my life path number. Today being the 18th day of the 8th month of the 18th year of 2000, I thought I'd share a bit of my fascination with numbers.
Today's date broken down: 1+8+8+2+0+1+8=28.
2+8=10 or 1. 1 is a beginning, a starting over, a fresh start. Today is a day of starting anew. The number 1 is the primal force. Hans Decoz describes it thusly: Positive Characteristics: Individualistic and independent, showing leadership and drive. The 1 is masculine, focused, an originator and self-starter; it is also progressive, strong-willed, courageous, self-reliant and rebellious (in a constructive way). Negative Characteristics: 1s can be stubborn, selfish, weak and undisciplined, or a pariah.
What are you going to use this energy of 18-8-2018?
I'd also like to mention that after a long absence of noticing this one particular recurring sequence, I have been seeing 11:11 over and over and over for the past week or two, even in the past half hour. But that's another post. For now, here's the number 18.
Number 18 Meaning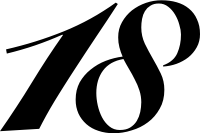 The numerology number 18 resonates with humanitarianism, independence, and building something of lasting benefit.
The numerology essence of the number 18 has to do with humanitarianism, independence, and building something of lasting benefit.
The underlying idea of the essence of the number 18 is the welfare of humanity.
18 is tolerant and compassionate, mixing easily with others, including planning and executing projects, yet tends to do the actions of what it considers the most important either by itself or as the leader — at its own determination.
It independently decides what its goals are and what to do to reach them — although the decisions are likely to be at least partially based on ideas and agreements arrived at during earlier consultation with others.
When 18 makes a decisions about its goals, 18 will either enlist the cooperation of others (and manage the project) or do the actions itself to accomplish its vision.
More aspects of the numerology number 18 are mentioned further below.
The meaning of a number in a numerology chart is derived from its essence. The position in the chart determines how the essence is translated to obtain the meaning.
As an overview, the numerology number 18 represents a composition containing the ideas of:
Humanitarianism
Self-determination
Tolerance
Efficiency
Philanthropy
Here are examples of situational meanings of the number 18 derived from its basic meaning/essence:
With an 18 birth date number (the life path number of a numerology chart), it means the person is likely to experience events and circumstances with opportunity to do something significant for the benefit of humanity. For the life path interpretation, the number's essence is translated as the type of opportunities likely to become available.
With an 18 vowels number (the heart's desire number of a numerology chart), it means the person desires peace and happiness for humanity and wants to do whatever they can to accomplish that vision. For the heart's desire interpretation, the number's essence is translated as the desire.
For more examples of how number meaning is derived from the number's essence, see the article Numerology Number Meanings
More Numerology Number 18 Meanings
The number 18 has meanings in addition to those already expressed. All meanings are subordinate to the essence of the welfare of humanity.
The energies of the number 18 in a prominent position of a numerology chart tends to have a tolerant, inviting quality.
The number 18 resonates its true essence in situations where it's able to donate money or otherwise help provide for the operations of groups and organizations dedicated to some aspect of the welfare of humanity. Rather than operate an organization, it prefers to assist many — aligning most of its focus toward its own projects and goals.
A cause to support helps 18 be more of what it is.
The Basic or Core Essence of 18
The basic/core essence or meaning of the number 18 is revealed by reducing the multi-digit number 18 to a single digit:
1+8 = 9
Thus, it's revealed that the basic essence of the number 18 is similar to the number 9. The number 18 also contains the essence of its individual digits, the number 1 and the number 8.
See these articles for descriptions of the individual numbers:
The fundamental meaning of the number 18 is an amalgamation of the intrinsic meaning of (a) the digit the number 18 reduces to, the number 9, and (b) the numbers 1 and 8, which are the digits composing the number 18.
The number 18 essence is charitable, worldly, and sophisticated. It's a humanitarian both self-sufficient and self-sacrificing for progress toward the fulfillment of its vision.
18's flair for effective drama can influence people to provide willing assistance toward achievement of its humanitarian visions.
The welfare of humanity is the highest priority of the number 18. It has no inclination to judge the value of others' existence, lifestyles, gender, heritage, beliefs, or political persuasions.
That's 18. Effectively bringing about humanity's welfare as its top focus.
~~~~~~~~~
Share Our Messages with Love and Gratitude
LOVE US @ MeWe mewe.com/join/lovehaswon
Commentary from The First Contact Ground Crew 5dSpiritual Healing Team:
Feel Blocked, Drained, Fatigued, Restless, Nausea, Achy, Ready to Give Up? We Can Help! We are preparing everyone for a Full Planetary Ascension, and provide you with the tools and techniques to assist you Home Into The Light. The First Contact Ground Crew Team, Will Help to Get You Ready For Ascension which is Underway. New Spiritual Sessions have now been created for an Entire Family, including the Crystal Children; Group Family Healing & Therapy. We have just began these and they are incredible. Highly recommend for any families struggling together in these times of intense changes. Email: motherofallcreation@lovehaswon.org for more information or to schedule an emergency spiritual session. We can Assist You into Awakening into 5d Reality, where your experience is one of Constant Joy, Wholeness of Being, Whole Health, Balanced, Happy and Abundant. Lets DO THIS! Schedule Your Session Below by following the Link! Visit:  https://www.lovehaswon.org/awaken-to-5d/
Introducing our New LoveHasWon Twin Flame Spiritual Intuitive Ascension Session. Visit the link below:
https://lovehaswon.org/lovehaswon-twin-flame-spiritual-intuitive-ascension-session/
Request an Astonishing Personal Ascension Assessment Report or Astrology Reading, visit the link below for more information:
https://lovehaswon.org/lovehaswon-ascension-assessment-report
https://lovehaswon.org/lovehaswon-astrology/
To read our Testimonials you can follow this link: https://lovehaswon.org/category/testimonials/
Connect with MotherGod~Mother of All Creation on Skype@mothergoddess8
We are a Donation based service for the Planetary Ascension. Thank you for showing your support and keeping our website and Love Energies moving forward! Thanks for supporting your family of light in their time of need to fulfill mission. We are Eternally Grateful!
Donate to Love: https://www.lovehaswon.org/donate-to-love/
Try Cash App using my code and we'll each get $5! FKMPGLH
Cash App Tag: $lovehaswon1111
Support Us on PATREON: https://www.patreon.com/lovehaswon
Here is our Fund Raising information for The Crystal Schools: https://www.gofundme.com/lovehaswon
Request a Free copy of Our Ascension Guide or (The Tree of Life ~ Light of The Immortals) Book
MeWe ~ Youtube ~ Facebook ~ Apple News ~ Linkedin ~ Twitter ~ Tumblr ~ GAB ~ Minds ~ Google+ ~ Medium ~ StumbleUpon ~ Reddit ~ Informed Planet ~ Steemit ~ SocialClub ~ BlogLovin ~ Flipboard ~ Pinterest ~ Instagram ~ Snapchat